Gothic-pants
Often known by trousers in Europe, Gothic-pants have a very broad range of styles and uses. Being very expensive to order from a designer, substituting them with normal pairs is fairly simple; but a pair of simple black pants often don't produce the same flare and feel.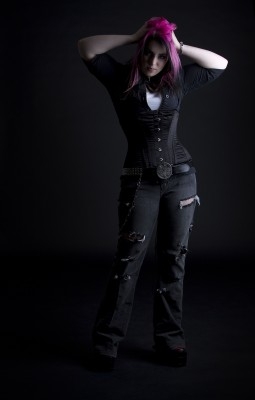 Of course, these particular styles of Gothic-pants are extraordinarily expensive. Unless you get lucky on a clearance sale, you'll end up paying anywhere between $70-$140 for one pair; so make it count!
But I find this preferable to the mainstream styles of seemingly normal blue jeans for the exact same price; let alone the ripped jeans that charge double just for the name brand. The act of charging $100 for a pair of ridiculously simple pants that a thrift store could offer for $15 is baffling.
Fortunately, the Gothic subculture doesn't care for brand names, and a pair of Gothic-pants will turn heads and last longer than anything in the mainstream stores. You end up paying for more than just sewn material, you pay for the unique style and attention gathered for months to come!

So, those preppy people can keep getting robbed of their money while we spend the same price for something extravagant and amazing. I'm just fine with that.
The Gothic-pants styles will turn heads in awe of the genius of their appeal. Rivets, studs, bondage straps, and patches are common among the main Gothic style.
Leather and PVC are also great when combined with boots for a more flashy style, and are also staples for cyber-Goth fashion. I will discuss the different styles and how they are typically worn.


Baggy
Though baggy pants are not a typical Gothic style, they are popular among the cyber-Goth trend and a few other trends. In America, where Hot Topic is seen as the 'Gothic getaway', Tripp pants are mistaken for being a Gothic style.
Tripp pants are excessively (if not ridiculously) baggy and noisy both in the lack of aesthetic subtlety and in the distinguishable auditory cacophony of the gratuitous amounts of chains while one is walking. Though exceedingly comfortable, they fall apart easily over the months.
Fortunately, after the excessive amounts of chains have been removed, they look much better when zipped off to become shorts and combined with boots. Tripp pants are typically around $60 a pair, so you get what you get.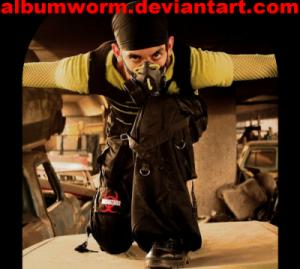 The real Gothic-pants in the baggy style don't generate as much of a headache to look at; they are often accompanied by a subtle and uniform use of rivets, studs, and sometimes bondage straps.
Chains are very infrequent, and they are typically tailored for the cyber-Goth trend. Within that trend, bright colors and designs compliment the black in a futuristic manner, and beg to be worn over platform boots.
They are easily spotted from a distance, and carry an aesthetic loudness when combined with a sleeveless top. I wouldn't imagine them combining well with trench coats, as they are not as sophisticated or edgy as such coats require.
But when in use with a more form fitting shirt they offer a far more stylish voice; a sleeveless cyber vest or jacket often accompanies the baggy pants in the cyber trend. The alternative for guys is to go shirtless or wear a mesh shirt. Such styles fit well in the club or concert scene, but not so well for everyday casual use; or the absolute Victorian style, either.


Normal and Tight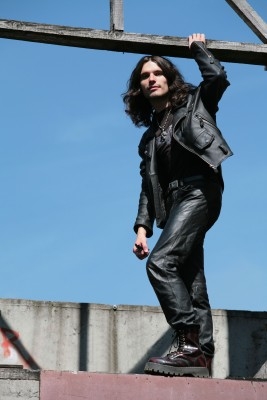 The more widely used variants are the typical style of pants (such as the kind jeans typically come as) and the skinny or stretch pants.
These two styles create the vast majority of all sub-trends within the Gothic subculture and, as a result, come in far too many different styles than I will be possibly able to cover. But I will try my best. As a note, knee-high and combat-style boots combine best with these pants; tucking the pants into the boots shows off the unique style.
The most adaptable style for the casual Goth is a simple pair of black pants, material doesn't matter, and usually have a light aesthetic element such as a few studs, rivets, or a few rings; but nothing too flashy.
These simpler pants can be combined with just about any other clothing item and still be effective in the overall look of your individual style.

A unique style often used in the club or concert setting is Gothic-pants with detachable skirts/kilts. These are popularized mainly by industrial and black metal artists for having an 'evil' look to them, and often come with D-rings, studs, and/or rivets.
They are very unusual, and would garner a lot of mixed attention if worn casually. Fortunately, the skirt is usually detachable for multiple occasions.
Many styles will have buckle details along one or both legs, and vary in quantity. These are more aggressive, but are often designed with a precise subtlety that only the Gothic mind can create. They compliment buckled boots very well. Bondage straps are also a common trend, and are accompanied by rings in D or O shapes.
Other materials, such as leather, vinyl and PVC, are used to make a normal pair of black pants shiny. They are best combined with boots, but may draw attention from the overall style of the outfit if the boots don't have an equal share; particularly for vinyl and PVC materials.
The shinier materials are often worn by the cyber-Goths if the baggy pants don't suit their liking, whereas leather or faux leather can be worn in just about every style; even the Victorian and classical styles.

Shorts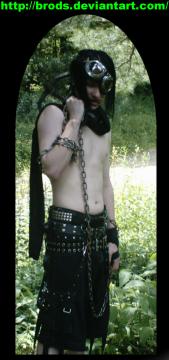 Contrary to popular belief, Goths do wear shorts; and we wear them well. For the summer season it becomes not only imperative for less clothing, it becomes fashionable.
Gothic shorts come in just about every style mentioned above, and are best combined with a pair of combat boots; unless you can find a pair of Gothic sandals, which I'm sure exist somewhere.
Tripp makes some decent Gothic shorts in my opinion. Though somewhat baggy, the designs they create are a little more uniform than their regular parachute pants.
Short shorts are common for cyber-Goth girls, and worn over fishnet stockings. Capris are also great when combined with flashy boots. Some pairs of Gothic-pants can zip off to become shorts.
Shorts are also worn in the club trends, and are usually worn with knee-high boots. They are best complimented with sleeveless shirts for a tougher look, and T-shirts can be quickly modified; it's also another good topless style for the men. They can be worn for most styles, but I wouldn't use shorts to create a Victorian look.


Top of Gothic-pants

Back to Gothic-Clothing