All about Gothic-contact-lenses

Ever seen a movie where a character is wearing Gothic-contact-lenses so cool that you wonder where you could find them? A thorough search is necessary to find that style (and price) that fits you. So, let's begin by where you can find the final piece that ties your appearance together.


First of all, a thorough internet search on Gothic-contact-lenses is the best place to begin; and probably the area you'll end up ordering your lenses. I will state right here and now, however, that you MUST be careful on this. Many contact lens companies are out for a quick buck and will sell you faulty products! Your safest bet is to not settle for less; but I will cover all this later.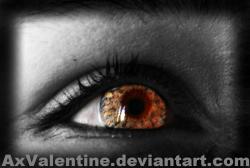 Doctors' offices will sometimes have contact lenses that you can order; but your best bet would be the optometrist. I will say that this would be the best place to buy them, since you know that you are not getting a faulty product.
It goes hand in hand with what I will discuss later about taking effective precautions for contact lenses, and they will always have a selection.


Varieties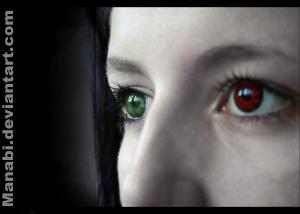 There are many varieties of Gothic-contact-lenses out on the market.There are many varieties, the basic categories being color layered, theatrical, and other unusual lenses. There are also prescription lenses that are used to correct vision, or plano lenses that are purely cosmetic.
First and foremost are the colored lenses. These typically come in three varieties: single layer, dual layer, and triple layer. Each layer just means a different color gets added in.


The more color layers, the better and more realistic they will look, and the higher they will be in price. They will also look far cooler with more details and more colors. Color lenses can come in a variety of colors (not just natural colors either), and are typically sold as prescription lenses too.
Though they may not be super-freaky, many colored lenses will can act better for Gothic-contact-lenses than other lenses; especially for adding more color.
Theatrical lenses are intended to be used for movie production or as Halloween costume pieces (hence the name 'theatrical'). These come in a huge variety of strange, weird, creepy, or unusual styles. They can have an odd color combination like black and red, or can have a simple picture on them like stars, spirals, or even smiley faces!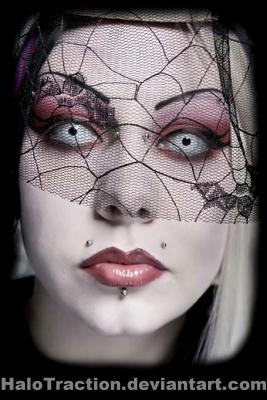 Also in the theatrical lenses you will find scleric lenses, which take up the entire eye. Yes, they are often painful and very uncomfortable, but they create the most vivid effects! The coolest being either solid black or solid white scleric lenses; black will have everyone running away in fear for sure!
Theatrical lenses make up the entirety of Gothic-contact-lenses because of their unusual appearance. These are the lenses most commonly used in movie production, and many sites will have copies of certain characters' eyes from popular movies.
Finally, there is the category of lenses that can't really be put into any other category; though I suppose you could technically call some of them theatrical. But these other lenses are just too abnormal to fit with the normal categories.
Rave lenses, for instance, are contact lenses that glow under black lights, and reflective/mirror lenses, also known as Riddick-contacts for you Vin Diesel fans, are made of a silvery substance that actually reflects like a mirror. Sometimes the mirrored lenses come in scleric form so the entirety of your eyes can be a silvery reflective surface!


One last thing to keep in mind about the different types of contact lenses is the difference between a disposable lens and a non-disposable lens. Disposables vary in how long they are intended to last before you should throw them away; some are required to be thrown away daily, where others will last for 2-4 weeks.
Non-disposable lenses, when cared for properly, can last up to a year. These are usually made of a harder material that doesn't rip easily. However, some people (like myself) can't wear these types of lenses due to the shape of their eyes or other problems; but that's if you can afford them in the first place.


Prices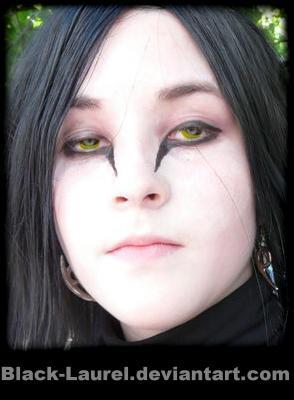 Now that you know the different types of lenses, let's look at the prices. Contact lenses, just a clear prescription kind, can cost around $20-$30 for a box. But boxes of these usually last for a month or more. Gothic-contact-lenses won't be so lenient on time.
Anyone selling theatrical lenses will attempt to take advantage of the customized nature of the contacts and can charge anywhere between $30 a box to $200 per lens! So shopping around the internet for the right Gothic-contact-lenses will take some time to accomplish.
But before we run off looking for the best deal we can find, you have to keep something in mind! Like piercings or tattoos, you don't want to settle on less for something like this. I'll cover the details why in the next section, but for now be aware that you should be skeptical about a pair of theatrical lenses that only cost $20. Very skeptical.


For that matter, custom made contact lenses are the safest ones to choose. However, these are often the most expensive lenses you can find on the market; but you can rest assured that they will be of the highest quality.
These lenses can last up to 1-3 months in lifetime depending on how long they are supposed to last. You will need your prescription information in order to buy a custom made contact lens; but this is a good thing.
The simpler the color design on the lens is, the cheaper it will be. I like a more realistic 'supernatural' look over a bland and fake single color combination. The more realistic looking lenses will typically cost much more; but you can sometimes find good deals. They usually have many colors and are very intricately designed.
Be prepared to pay about $30-$50 per lens on average; but it all depends on the website you're ordering from! Some will give you an incredible deal while others will rip off an arm and a leg!


Non-prescriptive Vs. Prescriptive Lenses

Where to Buy Freaky Eye Contacts

All About Riddick-Contacts (Reflective Lenses)

About Colored Contacts for Dark Eyes

Top of Gothic-Contact-Lenses