Colored-contact-for-dark-eyes
If you have a darker eye color like I do, there are colored-contact-for-dark-eyes that will effectively mask your real color. These are usually dual-layered contacts. If you have brown, hazel, or darker shades of blue or green, then the normal one-layer contacts won't work at all.



Having darker eyes is mostly a disadvantage in the sense that they aren't very flexible when you want to change their color. Our choices are a little more limited than what people with light eyes can choose from. The contacts we can choose from are bolder in their color, and if bought cheap will look fake. But this is necessary in order to completely cover the natural color, and many companies do a good job at it.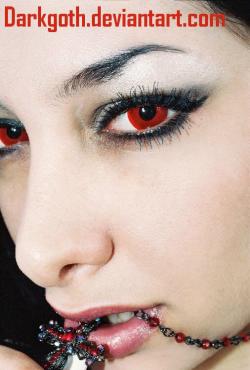 Because you have dark eyes you will need to look for opaque lenses. Opaque lenses are solid in their color and not meant to add to the natural color; but to completely change it entirely.
On the other hand, enhancement lenses are the type that we cannot wear. These lenses have a small amount of color that is meant to accentuate the natural color; but if your eyes are dark, then they absolutely won't be noticed. Avoid the enhancement contacts, and generally try to order contacts that are meant for dark eyes.
Also of note is the difficulty in finding prescription colored contacts since most companies won't wander outside of the normal enhancement colors with prescriptions. For this reason, I'd suggest finding glasses that work with the style you wish to project. It may seem impossible at first, but a wide array of frames can compliment many styles; it's certainly better than squinting everywhere you go, but I digress.
Acquiring colored-contact-for-dark-eyes lenses that is also prescription is likely going to be very expensive; and since you have to keep replacing them it becomes somewhat impractical. If the company you get prescription lenses from doesn't have any opaque colors, you will need to have them custom made by another company.




Fortunately, most companies that make colored lenses also make lenses for dark eyes too. So all that you really need to do is browse their selections and find a suitable price; just keep in mind that you get what you pay for, and going cheap on your most relied on sense isn't a good idea.


Top of Colored-Contact-For-Dark-Eyes

Back to Gothic-Contact-Lenses