Gothic-Boots
One item that you will usually see is a pair of Gothic-boots on a Goth. They are a staple of the wardrobe, ranging in many styles for many different occasions. From the height-inducing platforms to ankle-high combat boots there are endless possibilities for what they can be used for.





Typically you can expect to pay anywhere between $100-$200 for a pair of basic boots; ironically, platforms seem to be cheaper. For Americans, finding a store that sells them near you is probably close to impossible (maybe not so much in large cities, but us rural folk aren't so lucky).
Your best bet is to go online and order a pair from a European/UK source. This can take a few weeks for shipping, and then a few months to get through customs; but you can expect this to happen for just about anything you order foreign. Shipping may cost around $20-$30 due to the weight.
If you live near the UK, however, then you can expect a much more efficient delivery. Most companies that design and sell Gothic-boots are based out of the UK. Then again, depending on where you live, there might just be a store somewhere near you that sells them instead.
The idea behind the boots is something that is flashy and sometimes loud. They're usually described as 'clunky'; a fitting word for the typical appeal they provide to your outfit. They're also kind of heavy due to the leather and metal materials; most are steel-toe.


Buckles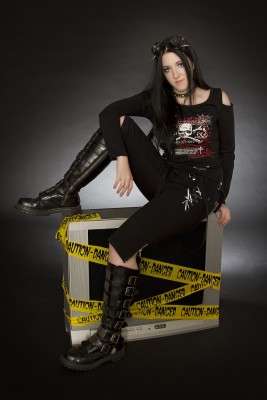 The most common detail on Gothic-boots are buckles, especially for knee-high boots. Not all boots will have buckles, but most do.
I enjoy the buckle aesthetic because it adds a bit of life and complexity to the overall look, and a pair of knee-high buckle boots can be combined with almost anything. Demonia has a good selection of knee-high and ankle-high buckle boots.
The buckles will typically run down the side of the boot. Don't worry, they usually zip up on the sides so you don't have to keep undoing and readjusting each buckle. I'd suggest ordering in your size for these, since the buckles also serve as adjusters if the size is too small; a size too big looks sloppy and weird.


Platforms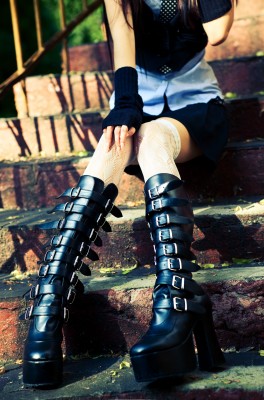 Feeling a little too short? Want to tower over crowds? A must-have in the cyber-Goth section of the subculture is platform boots. These can be simple in design, or can have a more futuristic appeal to them.
They can increase height by a little bit, or by a ridiculous amount (the larger ones are known as stacks). Though difficult to walk in at first, you get used to them after awhile.
They are typically a more female dominated style, but are actually unisex. New Rock and Demonia sell platform boots for both men and women.
For those of us who like to wear our pants on the outside (especially for baggy cyber-pants) while still having platforms but without the expense of ankle or knee-high boots, there are a few kinds of platform shoes. They're kind of like sneakers, except with an awesome amount of lift and a much lower price tag.
If you're short or below average height, like myself, platforms are an amazingly simple way to increase your confidence. It's funny how a small height change can truly make you own the room you walk in!

Other Details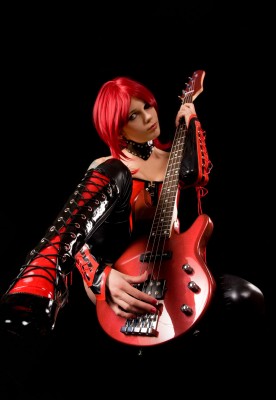 In the 'other' category the first thing that comes to mind are New Rock boots. These are ankle and knee-high boots that are very (very is an understatement) stylish and complex in design; but also wickedly expensive. Fortunately, the high expense allegedly covers high quality. They will run from around $300 to $400 a pair.
Among their designs are soles that include metal designs, shoelaces that run through the sole (they call 'em techno reactors), or the Neptune sole that features three holes with visible springs on the inside.
With those they'll include buckles, skull decals, chains, flame details, good lift, and other interesting designs along the boot itself. For all the money that is spent on them, they are worth the look.
Other kinds of details in Gothic-boots would be laces, spikes, studs, rivets, and other such aesthetic eye-pleasers. Combat boots are a nice starting point in donning an unusual style, and there are many knee-high boots that take the lace design of combat boots to the next level.
Aside from that, designers will do all kinds of cool things with spikes, studs and rivets on boots. Sometimes black on black gets boring, so the designers will use colored stitching, and even differently colored sections to add more voice to the boot!
So, aside from their usual high price, Gothic-boots are well worth the investment as they will usually last for quite a while before they need to be replaced. Most pairs will go good with or without other similarly styled Gothic clothing (I usually wear a pair with black jeans on a casual basis to add a little extra oomph to my outfit).
If price is a concern, a fallback suggestion is to use a pair of hiking boots. These can be found just about anywhere and have quite a few cool styles to them. A pair in black looks especially great when worn military style (tucking your pants into the boots and allowing the rest to bunch up around the ankles). I wear all my ankle-boots in this style.




Top of Gothic-boots

Back to Gothic-Clothing