Gothic-Corsets
Perhaps the most dynamic of all Gothic-clothing items, Gothic-corsets come in every style and can be used in any setting. Be it formal, casual, or clubbing, there's a corset to match! The only area they don't mix very well with is for men's outfits.



Where to begin? Usually, Gothic-corset are the one item that can have a different color other than black. This idea gives a centerpiece to an outfit, and is best used for formal occasions. Wearing all black is nice, but sometimes you want to add a little more color. A corset in your favorite color will add that little something extra to the all-black appearance.
Often times they are tied together with laces, and sometimes they use buckles instead; or maybe both. Different occasions call for different styles. A small amount of color to an all black corset is excellent for the uniformity of formal attire, whereas the solid and vivid colors are great for clubbing. If it's not too flashy or fancy, it can be used with the everyday outfit. I'll try to cover the basic three occasions and styles for such, but in the end it's really all up to your own imagination how to apply Gothic-corsets to different situations.


Casual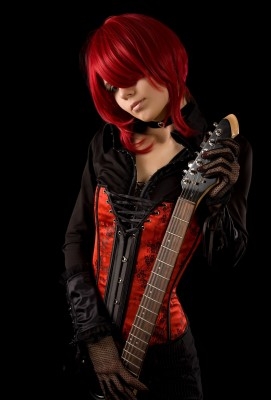 For going casual, an underbust Gothic-corset looks best for adding that little extra something. Whether you choose to wear a long-sleeve or short-sleeve shirt doesn't matter, so long as the shirt in mind matches the style of the corset.
Since dresses aren't very casual, and skirts are (usually) semi-formal, it's usually better to wear pants. Fortunately, pants don't need to match the uniformity of the corset, so you can avoid the designer pairs and buy many cheap pairs instead.

Overbust Gothic-corsets are typically only good for formal occasions, but there are some rare styles that can be used in a casual manner.
Wearing a t-shirt with a Gothic-corset might clash significantly; it's possible to use a very simple corset with a simple cotton shirt, but that's just in theory.
Since corsets themselves add an element of uniformity, button-up shirts will look the best if you want to avoid the designers. Short-sleeve or long-sleeve doesn't matter; just remember to keep the overall style of the corset in mind since the two pieces will need to complement each other.
Designer shirts will usually go very good with a designer corset, but this can cost an arm and a leg. It would be better to pay an arm for the corset, and save a leg with a simple shirt that can be easily modified.
However, for more sophisticated corsets, designer shirts might be the only option you have. Corsets, like jackets, can be worn many times before needing a wash; so it makes more sense to put the bigger price tag on the corset instead of a shirt that you'll end up changing every day.
Another idea for a casual style is to use a bodice instead. A bodice is, essentially, an overbust corset with straps on the shoulders. Rivithead has many great styles that are better than the average bodice, with prices averaging $50, more or less. No shirt is necessary, and the overall look of a Gothic bodice just screams 'wear me casually in the summer!'


Formal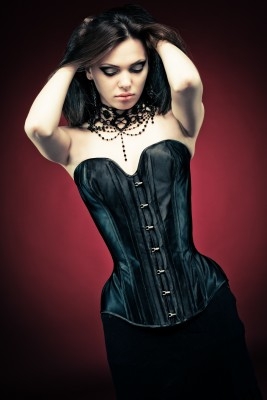 Unlike going casual, finding a Gothic-corset for formal attire is much easier since corsets are, naturally, a formal piece. Overbust corsets are ideal for this, and combine extraordinarily well with a long dress or skirt.
Like any Gothic style this combination is far more sophisticated and formal than anything in the mainstream fashion or culture.
The limitations for a formal Gothic-corset involve the style. Buckles and flare aren't good for a formal occasion. Rather, laced corsets go better with a dress. Also, a shirt wouldn't be the best idea for an overbust corset either.
If you want/need to wear a shirt with it, then use the underbust idea in the casual section, and use a long dress instead of pants.A little improvisation on the style of shirt will yield wonderful results!

Complete the formal look with silver Gothic jewelry on the wrist and neck, and you'll be undeniably the most well-dressed for such an occasion!


Clubbing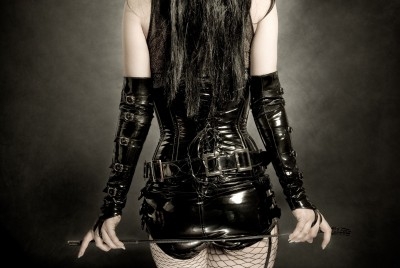 Corsets also work as a staple in most club styles. The negative side here is that the best club style is expensive and difficult to improvise without sufficient materials and resourcefulness.
Buckles, zippers, metal rings, and other accessories on Gothic-corsets are put to good use in the club where eccentric style is not only supported, but is mandatory for entrance. Thus, designer styles are almost a necessity.
This is often the best occasion to whip out the vivid colors. In a cyber-Goth style, bright and lucid colors on Gothic-corsets fit in very well with odd trinkets you wouldn't normally wear on the streets.
This style is put to the best use with a full outfit of designer clothes. However, since designer clothes cost a ridiculous fortune, the best idea is to modify something cheap with whatever you have on hand.

The other end of this is that the casual style also doubles as a club style. Use of designer pants, mesh, accessories, and Gothic boots will fill the gaps perfectly.
This is one of those occasions where PVC and leather materials on Gothic-corsets are very acceptable, if you're willing to buy a separate corset specifically for the occasion. To summarize, instead of buying a completely different outfit just to attend the club, a few new pieces added to the casual corset will work perfectly fine.


Top of Gothic-Corsets

Back to Gothic-Clothing