Gothic-Trench-Coats
The universally notorious Gothic-trench-coats are perhaps one of the more well known clothing items worn by members of the subculture. Contrary to popular belief, we do not all wear trench coats; though good luck finding someone that disagrees about them looking awesome.



When it comes to a Gothic twist on the style, trench coats are a very universal term. In normal society they are typically leather or other kinds of fabric, and are often black or any shade of brown. In our twisted little world they are predominantly black and made of a similar range of materials as normal trench coats.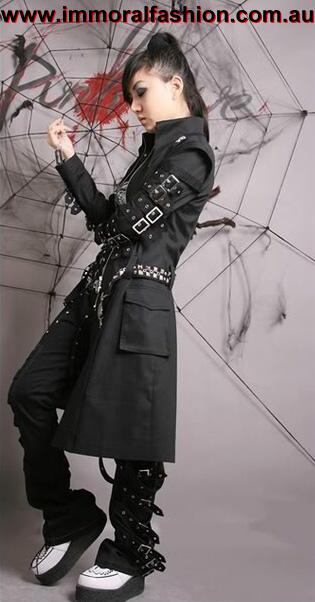 However, Gothic-trench-coats always feature tons of different shiny features such as zippers, rivets, studs, and buckles.
Some are hooded, some are not, but most coats are such that they will leave all onlookers gazing (or gawking) at the figure in the scary black trench coat.

A black trench coat has always been a silent symbol of someone you don't mess with, and the Gothic coats take this image to the extreme and beyond.
Other Gothic styled trench coats will follow in a similar design of the kind Hollywood detectives always wear.
For a more conservative budget that doesn't allow much for expensive brand name clothing, a simple trench coat or duster will work just fine.
Unfortunately, even the greatest deals on trench coats aren't cheap. But if you would wish to leave an impression everywhere, a trench coat by companies like Tripp or SDL will darken any room.

Trench coats are not exclusively male gendered. A Gothic twist allows both genders to make a statement in their own unique way. Men's trench coats will often give a 'big' impression that is more intimidating and often designed as though for utility, whereas women's trench coats will often accentuate shape and style.
Unfortunately, a trench coat is not a cheap investment. Fortunately, due to a lack of consistent stress on the fabric, you really only need one for most occasions and they don't wear down nearly as fast as shirts, shoes, pants or accessories. You can expect to pay anywhere between $100-$400 for most trench coats, though the most common 'low range' for brand names will be between $140-$200.
Some specialty and genuine leather coats will go beyond $400 while some websites will offer preworn or discounted coats for much cheaper; though such cheap deals are usually a matter of being at the right site at the right time for a deal that applies to you.


Top of Gothic-trench-coats

Back to Gothic-Clothing